Overview
Endodontics is the specialty of dentistry concerned with the prevention, diagnosis, and treatment of disorders that impact the tooth's blood and nerve supply, also referred to as dental pulp. Your tooth has three different layers: a hard, outer layer known as the enamel; an inner layer called dentin; and a soft tissue center known as pulp — which contains vessels, nerves and connective tissue that help sustain the tooth. When pulp becomes inflamed or infected, pressure and infection can begin to build within the tooth, causing pain and resulting in dental disease if left untreated. The study of endodontics has given specialists a safe and effective means of saving damaged teeth.
If you have a toothache, we can see you quickly. At Monument Endodontics & Periodontics, our skilled endodontists are available for emergency dental care.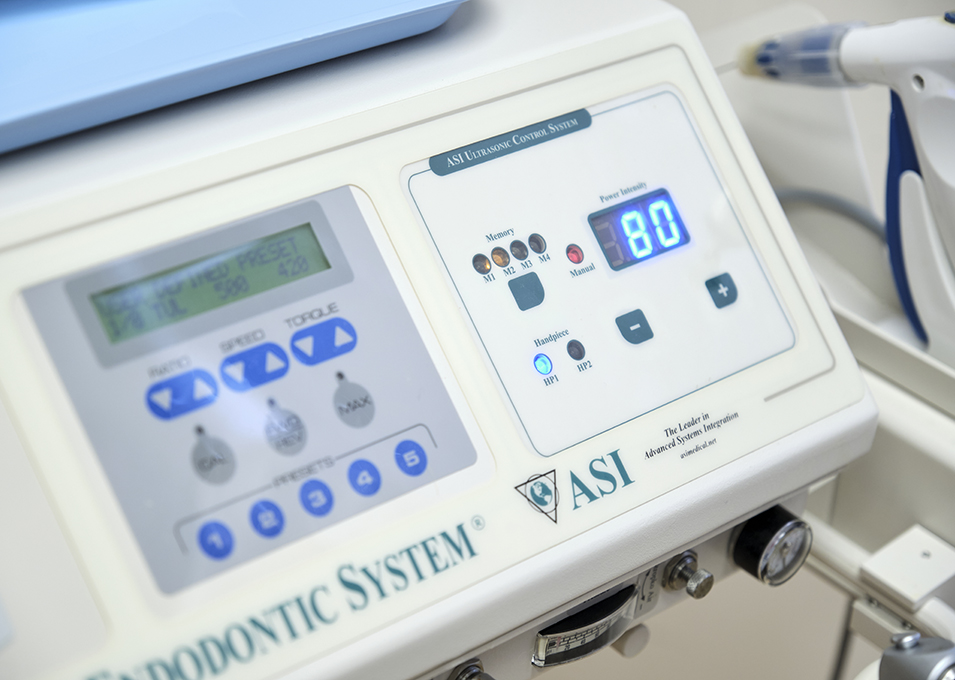 About Endodontists
Endodontists are dentists that specialize in saving teeth and are committed to helping you maintain your natural smile. Their expertise, techniques, and state-of-the-art technologies ensure you receive the highest quality care that yields the best results.
While all endodontists are dentists, less than three percent of dentists are endodontists. Endodontists are specialists because they've completed an additional two or more years of training beyond dental school. Their additional training focuses on diagnosing tooth pain and performing root canal treatment and other procedures relating to the interior of the tooth. In many cases, a diseased tooth can be saved with endodontic treatment. For this reason, endodontists proudly refer to themselves as specialists in saving teeth.
Click here to learn more about endodontists.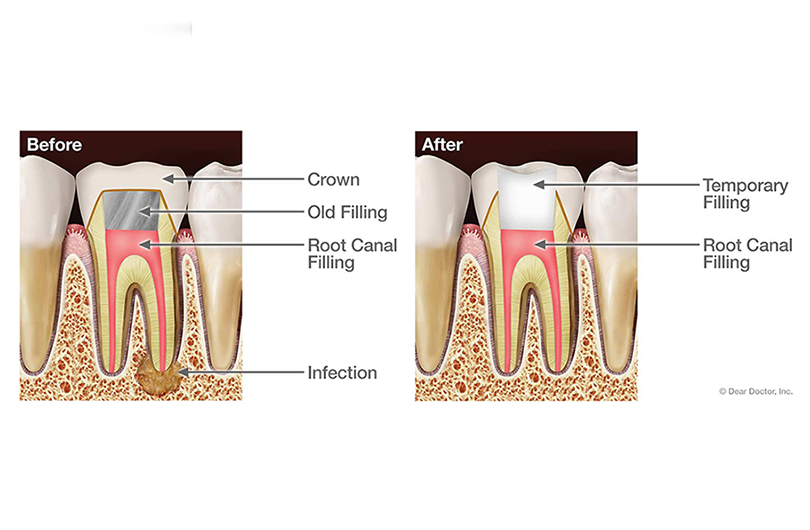 About Endodontic Therapy
A local anesthetic will be given. A sheet of latex called the "rubber dam" (non-latex available) will be placed around the tooth to isolate it, keeping it clean and dry during treatment. The treatment consists of three or four basic steps, but the number of visits will depend on your particular case. Most treatments require only a single visit. In any case, it depends on the degree of infection/inflammation and degree of treatment difficulty.
Root canal treatment, or endodontic therapy, have a very high degree of success. Most studies place success rates well above 90%. We will discuss with you the chances of success before any endodontic procedure to help you make an informed decision.
Click here to learn more about Root Canal Therapy.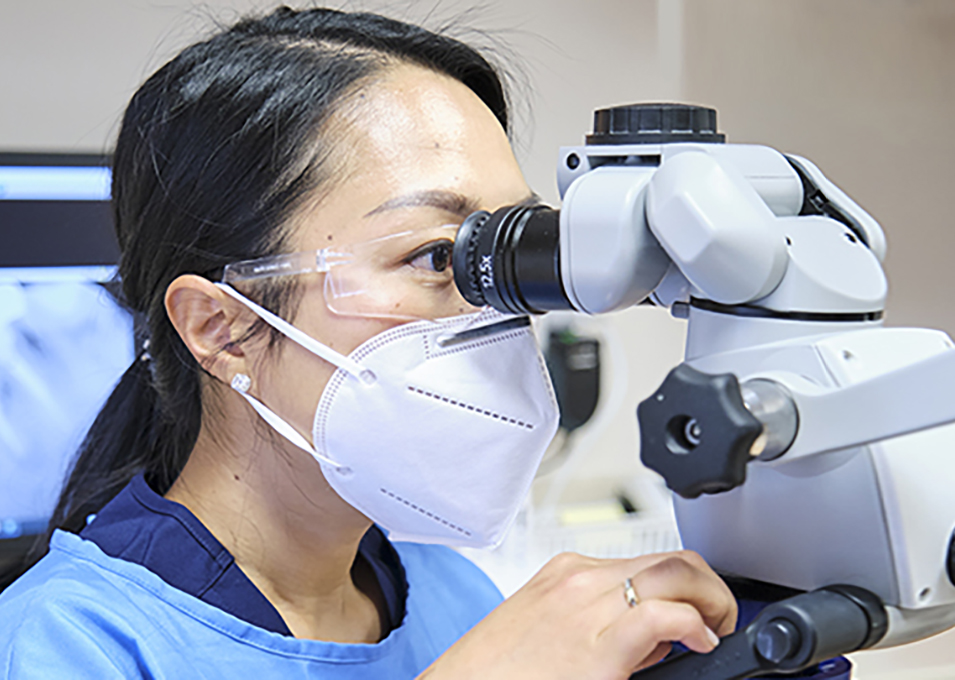 Post-Op
It is normal to feel some tenderness in the area for a few days after your root canal therapy as your body undergoes the natural healing process. As a general rule, if you had discomfort prior to treatment then you should expect some discomfort after treatment. You may also feel some tenderness in your jaw from keeping it open for an extended period of time. These symptoms will decrease over time; it may take as much as a week or more. They usually respond very well to over-the-counter pain medications such as Tylenol and Ibuprofen. 
Contact our office if you develop: 
Visible swelling inside or outside of your mouth 
Allergic reaction to medication, including rash or hives  
Severe pain lasting more than three days 
Contact the clinic if you need to reschedule/cancel your next appointment 
Click here to learn more about post-treatment care.
Retreatment
Occasionally a tooth that has undergone endodontic treatment fails to heal, or the pain persists despite therapy. Although rare, sometimes a tooth initially responds to root canal therapy but becomes painful or diseased months or years later. When either of these situations occur, the tooth often can be maintained with a second endodontic treatment.
Click here to learn more about endodontic retreatment.
Frequently Asked Questions About Endodontics
Why should I save my natural tooth?
Although it is possible in some cases to replace an extracted tooth with an implant or bridgework, it is almost always preferable to try and save your own natural tooth.
In a recent American Association of Endodontists survey, 76% of participants said they would prefer a root canal to tooth extraction.
Nearly 1/3 would not sell a healthy front tooth for any amount of money.
Most people are not aware that root canal treatment is a viable alternative to tooth extraction.
Artificial teeth can limit your ability to chew certain foods.
How do I know if I'm in need of root canal therapy?
Patients may need endodontic treatment, including root canals, if they experience any of the following symptoms: prolonged dental sensitivity to heat or cold, tenderness of teeth to touch and chewing, or facial or oral swelling.
Typically, your general dentist would refer you to an endodontist for treatment.
Will I need to return to the office for follow-ups once my treatment is completed?
Yes, for most root canal treatments, we recommend that patients return to the office 1 year after the procedure was finished. Our office will send a reminder notice to you when you are due for a recall appointment.
Will it hurt after the procedure?
It is normal for your tooth to be sore for the first few days after root canal therapy has been completed. Initially, soft foods are recommended, as they will provide less discomfort during chewing. The soreness may continue for a few weeks. It should gradually feel better as the time passes.
You may take over the counter pain medications if needed to manage any discomfort. If the over-the-counter pain medicine are not helping to alleviate your symptoms, please call the office.
A very small percentage of patients (less than 5%) experience post-operative swelling in the area that was treated. If this happens, please call our office immediately.
If you have any questions or concerns following your treatment, please do not hesitate to call our office.
What our patients say
The staff is pleasant, professional and caring. Scheduling my appointment was not only quick but they scheduled me for the next day. I was amazed at how efficient they are at getting you checked in and to the dental chair so fast. Dr. McBride was very caring. My overall experience was amazing.
Patient of Monument Endodontics and Periodontics, Google Review
I highly recommend Monument Endodontics and Periodontics. My experience with Dr. Zafrin was by far the best I ever had. She was very informative throughout the whole process and giving me the best recommended treatment. Friendly staff and excellent service. Thank you!!
Patient of Monument Endodontics and Periodontics, Google Review
I am extremely thankful and happy with my experience with Dr. Mangin and staff, from Amanda at the front desk to Claudia assisting Dr. Mangin. My dentist referred me to Monument Endodontics and I called and they were able to get me in that same day due to a cancellation. I cannot thank everyone enough as to how kind and pleasant they were handling my needs. The service was professional, transparent and thoughtful. Thank you!!!!! 100% recommend their office
Patient of Monument Endodontics and Periodontics, Google Review